i pick a copy of
white zombie
at the
Waltham Cross
branch pound land(but I've chucked the usual amazon link in for you) and now I'm going to treat you to the first fabled idiot at the movies.
white zombie
it's 1930's zombies flick so clearly it not going to be every cup of tea but
Bela Lugosi's
name on the box is enough to get my attention on top of that this is were the zombie film begin just imagine what the would may be like if it was never made. Romero wouldn't of made
Night Of The Living Dead
Rob Zombie (or simply Rob)
wouldn't have a name for
his band
and if i spent my teenage years playing
Resident Evil
and
watching
Evil Dead Trilogy
how know what kind of sick twisted mad man i would of become.
i can't say this move is much better than average but it's definitely not below it. what stands out most in this film are the stunning visual thanks in no small part to the second hand sets rented from Universal Studios and the acting talent of the two stars
Bela Lugosi's
how career was just starting and
Madge Bellamy
how was fading career having started in silent movies and shooting at here lover in 1943 probably didn't help her career much.
this is the sat of film for the start of a nerds night in the one you stick on as you wait for everyone to turn up. it's the canapé of zombie films.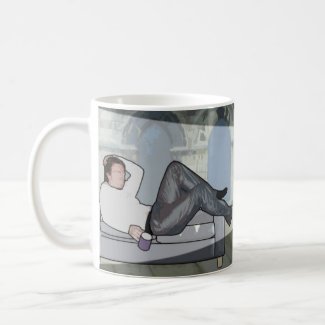 at the movies: 1 White Zombie Mug
by
ianbyfordart
Browse
Fabled idiot Mugs